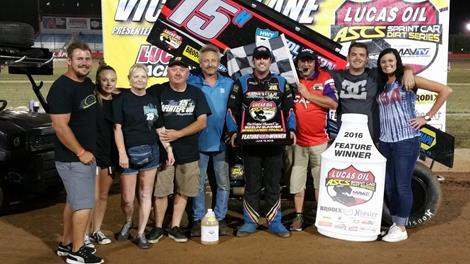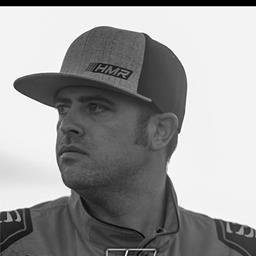 6/20/2016
Sam Hafertepe Jr
---
Sam Hafertepe Jr. – ASCS Speedweek Champ!
Sam Hafertepe Jr. – ASCS Speedweek Champ!
(Bill W) June 20, 2016 – Sam Hafertepe Jr. and the Keith Dobbs #15H team continued their momentum as of late, racking up two wins and a Lucas Oil ASCS Speedweek title for their 2016 resume. The Sunnyvale, Texas driver won bookends of Speedweek, claiming the opener a week ago Saturday at Route 66 Motor Speedway near Amarillo, and topping the finale at Lucas Oil Speedway near Wheatland, Missouri last Saturday. The team is en route to the Pacific Northwest, with Skagit Speedway's Dirt Cup first up on the docket this Thursday through Saturday.
After his win at Amarillo and a rainout at Devil's Bowl Tuesday, Sam and ASCS gathered Wednesday at Lawton Speedway in Oklahoma. "In hot laps, we were really good, but in the heat, the car felt kind of mediocre, to be honest," he says of his run from sixth to third there. "In the feature (in which he started seventh), we tightened up quite a bit, because we knew it was going to be slick. We were really not very good the first half of the race and dropped back to tenth. I started playing with the wing a little bit, and changed my line a little bit. The more the track started getting cleaned off, you could tell it was going to take rubber, you just didn't know when."
At that point, he would start his move forward to second. "I think I found it a little quicker than some of the other guys and I started picking them off," says Sam. "We were up to third on a restart with five to go. We were able to get by Johnny (Herrera) for second. We were able to stay with (Brad) Loyet. He had found the rubber too, and there was nothing we could really do with him."
The second place finish set up a date at Creek County Speedway near Sapulpa, Oklahoma on Thursday. "It's definitely not one of my favorite tracks to go to," says Sam. "We've never really run well there. We were skeptical about drawing seventh in our heat race, but we were able to get up to fourth. We weren't too bad in the heat or the Qualifier (which he won). We were struggling a little bit in the corners."
The team would go to work and Sam would start fourth in the feature. "We made some changes, and we were really good," he says. "We got up to second, and the caution came out right after I passed him. That put us back in third, and we never really could get back by them. We battled with Wayne (Johnson) a little bit, and ended up third."
The Missouri State Fair Speedway in Sedalia was up next on Friday. "We felt Sedalia would go really well," says Sam. "We've been stronger at the bigger places. We just couldn't get a good start in the heat race. The track was narrow in that first heat especially, and if you didn't get through one and two well on the start, it made your heat tough. That's what happened to us and we ended up fourth."
That sent Sam to the B. "We were able to use the B to figure out a few things on the car (finishing second)," he says. "We were able to get better for the feature. We started 18th, and it was really hard to see the first few laps. You were just hoping you didn't run over the guy in front of you. We were able to get going, and we were up to 11th or 12th at the midway point. We actually found the bottom at that point, and rolled up to sixth. With two go, I got tight on a restart and that cost us a few spots. We held on for seventh. It wasn't a bad race, starting 18th and salvaging a seventh."
Saturday night at Lucas Oil Speedway, Sam and Brad Loyet would go at it much of the night. "He was in my heat race too, and he was awfully fast there," says Sam. "He started fifth and won, and I started sixth and got to second. I couldn't do much with him there. In the Qualifier, we made some adjustments and the track started widening out. We got a couple cars on the start, and that was good enough to start fourth in the feature."
Sam was pumped for the main event. "I was kind of nervous to start the feature," he says. "I put a lot of pressure on myself, because I wanted to win that race. I felt we've had a few races there where we should have won and we didn't get it done. I felt like that night was going to be our night. We had to make the right calls, and I had to make the right decisions as a driver. It worked out well."
The game plan went into action early. "(Matt) Covington and Loyet got to battling going into one, and I went to the top," says Sam. "We were able to get by Loyet with a good run. We had a caution two or three laps in, and I got another shot at Covington. I got a really good start. He knew that, so he went low to block me going into one there. I just drove to the top and went around him. Once we got out front, our car was really good…the class of the field."
But Loyet wasn't going away. "With the top being the dominant line, it made it really tough when you got to traffic," says Sam. "That allowed Loyet to get right back on my bumper. We battled pretty hard with each other through traffic. It was really good racing, slidejobs back and forth. I got into him once coming off four. I didn't mean to get into him, but the track was so slick coming off the corner. That's how we got the lead back, but it's not how we wanted to do it. We had a restart with five to go, and we were able to drive away in clean air."
The win was a nice capper for the ASCS Speedweek champion, and the leader in ASCS National points heading to Washington. "It was cool to be as dominant as we were all week," says Sam. "We finished outside of the top three just once, and that night we went from 18th to seventh. I'd say we had a really good racecar night in and night out. Wheatland put the icing on the cake for us."
Sam Online
Website: www.Sam15.com
Twitter: @SamHafertepeJr
Facebook: www.facebook.com/pages/Sam-Hafertepe-Jr-and-The-Plumbfast-Racing-Team/116304711773031?ref=br_tf
Sam's Weekly Releases
If you'd like to be added to Sam's e-mail list for weekly releases, e-mail sprntcar@hotmail.com with "Sam" in the Subject Line.
Sam would like to thank Highway 79 Collision Center, the Sparks Family, Kiebler & Sons Lawn and Landscaping, Keizer Aluminum Wheels and Champion Oil.
Photo: Sam and the team in Victory Lane in Wheatland (Terry Ford for ASCS Photo)
Bill W Media
sprntcar@hotmail.com
Twitter: @BillWMedia
Website: www.OpenWheel101.com
Monroe, IA USA
Back to News